Republican Tax Plan Cuts Middle Class and Corporate Taxes, Leaves Retirement Savings Safe
Republican Tax Plan Cuts Middle Class and Corporate Taxes, Leaves Retirement Savings Safe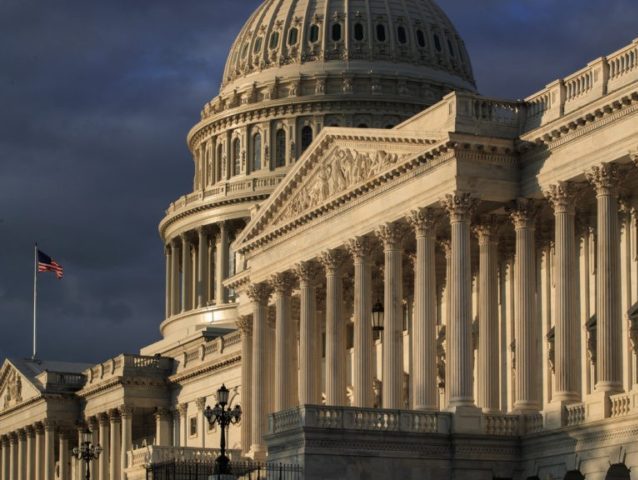 House Republicans unveiled their bill to overhaul the U.S. tax code Thursday morning.
We'll follow along with the news and analysis of the bill all day. Refresh this page for the latest updates.
Here are the highlights:
The House bill reportedly will permanently and immediately cut the corporate tax rate from 35 percent to 20 percent. Lawmakers dropped earlier plans to phase-in the tax cut over a number of years or have the cut sunset in the future, both measures aimed at reducing–on paper, at least–their impact on long-term budget deficits.
The pass-through rate will be 25 percent, a huge cut for many small-businesses organized as sole-proprietorships and partnerships.
As first reported by Breitbart in August, the bill will impose a one-time tax on corporate profits that have been accumulated and held abroad. By taxing these profits at 12 percent on a one-time basis, the bill eliminates the incentive for corporations to continue to avoid repatriating the funds and investing them in America or distributing them to shareholders. Illiquid corporate assets will be taxed at a lower rate of 5 percent.
The risky plan to change the way Americans save for retirement, and possibly raise taxes on middle-income Americans, has been dropped. The bill will not change 401(k)s, according to talking points distributed by the House GOP leadership.
The bill is named the Tax Cuts and Jobs Act, breaking with recent Washington precedent of giving bills titles with acronyms that indicate the goals of the legislation.
The bill cuts the current seven individual tax brackets down to four: 12 percent, 25 percent, 35 percent, and 39.6%. Originally, the GOP framework planned to drop the 39.6 percent rate. It was preserved in an effort to prevent tax burden from shifting to lower income taxpayers.
A big question has been where the new brackets would break. Now we know. For individuals, the 25 percent rate starts at $ 45,000, the 35 percent rate at $ 200,000, and the 39.6 percent rate at $ 500,000. For married couples filing together, the 25 percent rate will start at $ 90,000, the 35 percent rate at $ 260,000, and the 39.6 percent rate at $ 1 million.
Standard deduction rises to $ 12,000 from $ 6,350 for individuals, and from $ 12,700 to $ 24,000 for married couples.
The House bill expands the child tax credit from $ 1,000 to $ 1,600, which is a smaller expansion than conservative lawmakers in the Senate had pushed for.
The threshold for the death tax will double from its current $ 5.6 million per person and $ 11.2 million per married couple. It would be ended altogether in 2024.
Corporate interest deductions get capped at 30 percent of earnings before interest, taxes, depreciation, and amortization. Small businesses and real estate firms, which are often highly leveraged, are exempt from the cap.
---
11:43 A.M. The actual text of the 429-page''Tax Cuts and Jobs Act'' is here.
---
11:39 A.M. Here is the section by section commentary from Ways and Means Committee chairman Kevin Brady on the tax reform bill.
---
11:20 A.M. Big Sports takes a hit in the tax bill. Tax-exempt bonds can no longer be used to build professional sports stadiums under bill.
---
11:11 A.M. Bloomberg's Josh Green points out that home builder stocks are getting hurt by the reduced cap on mortgage interest deductions.
Home builders getting crushed by House GOP tax bill: pic.twitter.com/kvWFYI2smh

— Joshua Green (@JoshuaGreen) November 2, 2017
---
11:08 A.M. As expected, the Alternative Minimum Tax will be repealed. This was a parallel tax that disallowed personal exemptions and deductions. Originally aimed at making sure the wealthiest taxpayers could not avoid taxes altogether through deductions, the tax was not indexed for inflation so that it was hitting many middle-income Americans.
---
10:56 A.M. FreedomWorks President Adam Brandon released the following statement regarding House Republicans' tax plan.
"After more than 30 years, we have a generational opportunity to fundamentally reform America's tax code. We applaud Chairman Brady for his years of hard work on this crucial effort. The Tax Cuts and Jobs Act is a pro-growth tax reform bill that will boost the middle class, increase workers' take home pay, and create jobs for Americans. We are committed to getting this bill across the finish line this year. Failure is not an option for us and our grassroots community. We need to boost the economy and get our country back to annual growth above 3 percent.

FreedomWorks is mobilizing our activists across the country to let our elected officials in the House and Senate know we support the plan. Getting this bill signed by the end of 2017 is our top priority."
–Sean Moran
---
10:53 A.M. Is your college a hedge fund in disguise? A handful of very large universities have huge endowments that produce huge financial gains that are protected from taxation under current law. The Republican bill would create a new excise tax on private universities with assets exceeding $ 100,000 per student. That still seems like a huge tax loophole for the biggest university endowments.
---
10:46 A.M. In exchange for the higher standard deductions and in an effort to simplify the tax code, Republicans plan to eliminate a lot of tax breaks. Each of these has its supporters who will try to preserve them as the bill moves through the legislative process. Here is a partial list of tax breaks that are capped or eliminated by the bill.
The deduction for state and local taxes is capped at $ 10,000 and limited to property taxes. That benefits residents of Texas and other states that depend on property taxes rather than income and sales taxes.
Tax credit for adoption is ended.
Deduction for student loan interest is repealed.
Tax credit for employer provided child-care is repealed.
---
10:38 A.M. While we wait for the actual bill, we'll note there are no changes to the charitable giving deduction. Still, the larger standard deduction could make itemizing less attractive for many taxpayers, which would make the charity deduction less relevant. Charities had pushed for changes to keep the deduction relevant for a larger set of taxpayers.
---
10:29 A.M. We saved the 401(k)! The bill "makes no changes to the popular retirement savings options that Americans have today — including 401(k)'s and Individual Retirement Accounts, or I.R.A.s. Americans will be able to continuing making both traditional, pretax contributions and 'Roth' contributions in the way that works best for them," according to talking points distributed by GOP leadership on Thursday.
---
10:15 A.M. The bill includes limits on the home mortgage-interest deduction, sure to spark resistance from the real estate and mortgage banking industries. While existing mortgages are grandfathered in for loans up to $ 1 million, for new home purchase mortgages the cap falls to $ 500,000.
---
9:50 A.M. Here's what we wrote last night about what to expect from the tax bill.
Let's block ads! (Why?)