Prince Harry's Friend Offers Theory About His and Meghan Markle's Royal Exit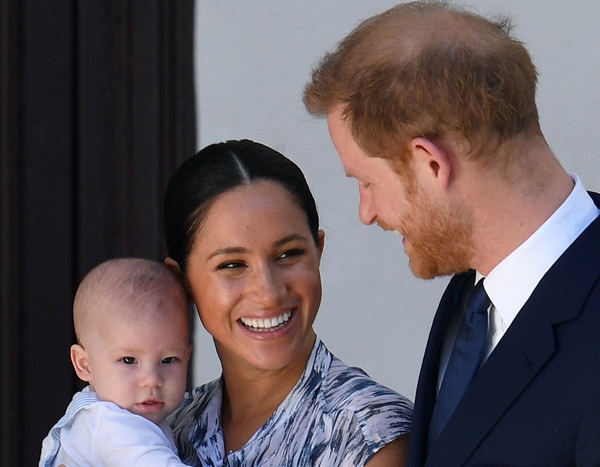 There have been several theories circulating as to why Prince Harry and Meghan Markle have decided to "step back as 'senior' members of the Royal Family," as they put it, and now, one of the Duke of Sussex's friends is offering his rare insight into the controversy.
JJ Chalmers, a former Royal Marine who met Harry when they served in the military together several years ago, shared his thoughts in a recent interview on the BBC's The One Show.
"He's less the captain in the army I used to knew, and he's more the father, and when I see him, it's 'How's the kid?' So that's the first thing that comes up," Chalmers said. "When you look at the decision that he's made, I think at the forefront of that is to protect his family, because that's the number one rule, is to be a father and to be a husband."
In their historic announcement, reportedly not made in advance to neither Queen Elizabeth II nor Prince Charles, Harry and Meghan, parents of baby son Archie Harrison, said, "We now plan to balance our time between the United Kingdom and North America, continuing to honour our duty to The Queen, the Commonwealth, and our patronages. This geographic balance will enable us to raise our son with an appreciation for the royal tradition into which he was born, while also providing our family with the space to focus on the next chapter, including the launch of our new charitable entity."
"Any husband wants to protect their wife and any father wants to protect their children, and particularly when he's a very principled individual," he continued. "So when he looks at the way that the media for example reacts and how social media talks about someone, he has to answer to his son one day, when he begins to understand this and be able to look him in the face and say, 'I made the right decision and I did right by you.' Ultimately, [Harry] grew up in the limelight and he knows how this can end if it's not handled correctly."
The American-born former actress, who is of mixed race, has faced racism and sexism in the press and on social media since she and Harry first went public with their relationship in 2016. Kensington Palace, which represented the duke and duchess at the time, before they formed their own household last year, condemned such "harassment" of Meghan in a rare statement.
"Black Britons know why Meghan Markle wants out. It's the racism," Afua Hirsch, author of Brit(ish): On Race, Identity and Belonging, wrote in a New York Times opinion piece this week.
A few months ago, Meghan got emotional in an ITV documentary about the pressures she's felt as a new mother and member of the Royal Family amid much negative press from U.K. tabloids. Meanwhile, Harry opened up about the death of his mother, Princess Diana, who died in a car crash in 1997 while trying to escape the paparazzi.
"I will not be bullied into playing a game that killed my mum," he said.
Last fall, Harry called out the U.K. tabloids over their "ruthless" campaign against his wife. He and Meghan then sued several of them.
The lawsuits and the couple's comments have not appeared to affect the U.K. tabloids' coverage of them nor stopped people from condemning them on social media, amid an outpouring of support from others, especially Americans. Many of the critics have pointed the finger directly at Meghan.
Outspoken British TV personality Piers Morgan, a longtime supporter of the monarchy, tweeted earlier this week that the duchess was "breaking up our royal family after fleecing the public purse."
Darren McGrady, who used to work as a personal chef to the Queen, Diana and Harry and brother Prince William, tweeted, "Meghan never wanted to be Royal. Meghan wanted to be famous. Meghan is famous! It's all about Meghan!"
"People saying Princess Diana would be proud don't know Princess Diana. She would have been furious that Harry had been so manipulated #SadDay," he wrote. "I remember Princess Diana in the kitchen at Kensington Palace talking about 'her boys' … 'William is deep like his father. Harry is an airhead like me' I guess she nailed it. Even in her darkest hour Princess Diana respected The Queen. She would have been so mad with Harry right now."