Live Updates: Avenatti Circus Throws Brett Kavanaugh Confirmation into Chaos
Aggregated From: Breitbart News
Live Updates: Avenatti Circus Throws Brett Kavanaugh Confirmation into Chaos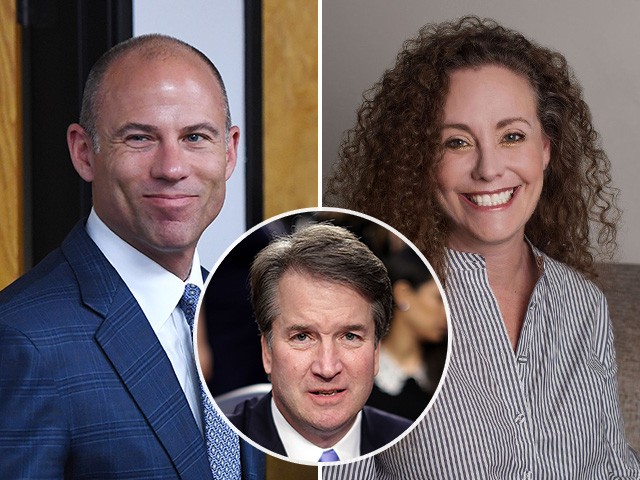 The latest accusations against Donald Trump's Supreme Court nominee, Brett Kavanaugh — brought by Resistance TV lawyer Michael Avenatti, representing a D.C. resident named Julie Swetnick — have caused Democrats on the Senate Judiciary Committee to push even harder to derail Kavanaugh's confirmation.
Follow updates from Breitbart News on the latest developments in the Kavanaugh confirmation battle. All times eastern.
Livewire Highlights:
• Christine Blasey Ford releases polygraph report from her legal team. Details differ from other times she has recounted the story, and it is revealed that it was administered in Maryland — even though she recently delayed testifying before the Senate, citing difficulty with flying across the country from her home in California.
• Michael Avenatti has declined to make his client Julie Swetnick available for media contact. The NYTimes says it is thus unable to corrobate her story.
• Judge Kavanaugh has testified under oath to Senate investigators in response to Swetnick's allegations.
• GOP senators Cotton and Graham declare Swetnick's allegations "not credible," echo Kavanaugh's "Twilight Zone" characterization.
• President Trump disses Avenatti on Twitter… and apparently gets under his skin.
• Jeff Flake trashes Trump for being "uninformed and uncaring" in response to Kavanaugh's accusers — still says he has an open mind and will hear out both parties.
4:13 PM —
The Kavanaugh Show:
All 4 broadcast networks will break in with special live coverage tomorrow of Supreme Court hearing.
(20 million watched Comey last June)

— Michael M. Grynbaum (@grynbaum) September 26, 2018
4:12 PM —
I'm told GOP staffers on Judiciary are preparing to release transcripts of at least some of their interviews they've conducted in the course of investigating Ford allegation. Committee also plans to release xscript of Fox News interview, which makes it go under penalty of perjury

— Seung Min Kim (@seungminkim) September 26, 2018
4:10 PM — CNN PRIMETIME HOST: 'AVENATTI IS NOT THE ISSUE'
I think we don't know. I think Avenatti is not the issue except for those who don't want to deal with the issues. And I think that the clear intent to do the minimum by gop is a problem for them and unfair to k https://t.co/FUYzrKezGi

— Christopher C. Cuomo (@ChrisCuomo) September 26, 2018
4:07 PM — Avenatti under fire for posting Swetnick's name and photo, then paying lip service to "her privacy." He tells the New York Observer he "wanted America to know what my client looks like."
4:04 PM —
Transcribing from earlier, Sen. Kennedy said of the Kavanaugh allegations: "This is no country for creepy, old men, or creepy young men, or creepy middle-aged men. But this is also no country to deny people due process."

— Lauren Gambino (@laurenegambino) September 26, 2018
4:00 PM — Rosie O'Donnell calls Graham a "closeted idiot" in response to his defense of Kavanaugh. (Archived here in anticipation of deletion)
fuck u u closeted idiot – this is the patriarchy exposed – this is reality deal with it !!#NoKavanaughConfirmation #NotMyPresident

— ROSIE (@Rosie) September 26, 2018
3:58 PM — Sen. Chuck Grassley (R-IA) says Thursday hearing will proceed with no delay: "I feel like I have a definite responsibility to hold a hearing, not only for (Blasey Ford) but for Judge Kavanaugh."
3:55 PM —
. @SenBillCassidy said, "There has to be some fairness to Kavanaugh not to someone like Michael Avenatti."

— Deborah Berry (@dberrygannett) September 26, 2018
3:50 PM — VP Mike Pence affirms support for Kavanaugh:
The White House is not getting cold feet about this nomination. Pence told Rs today that they support both Kavanaugh and the process playing out. He said he's confident the hearing will be fair, but added somewhat tellingly that he looks forward to the process moving forward.

— Kaitlan Collins (@kaitlancollins) September 26, 2018
3:44 PM — Kavanaugh's lawyer Beth Wilkinson spars with NBC News' Katy Tur: "I heard your last session, and you guys were all saying, 'oh, there's so much detail.' There's no detail in here. There's no place. There's one or two years, generally. There's no other people. There's no dates, there's no times. There's no information here, other than that there are multiple people, supposedly involved for years — not just her, by the way. She actually saw other women being gang raped, and it's never been reported?"
TUR: Does your client believe what the president has said — that these accusations stem from a Democratic plot of some sort?

KAVANAUGH'S ATTORNEY: My client knows he didn't do this. He's not speculating about the politics. pic.twitter.com/GbCY5tUBnf

— Aaron Rupar (@atrupar) September 26, 2018
3:43 PM —
Durbin on latest Kavanaugh allegations: These women had every reason to stay silent to avoid harassment and death threats. They have shown that they have nothing to hide by calling for a nonpartisan FBI investigation and sworn testimony from other witnesses.

— Chad Pergram (@ChadPergram) September 26, 2018
3:16 PM — Commentators noticing more discrepancies in Blasey Ford's polygraph notes:
Dr. Ford's polygraph letter contradicts letter she sent to Feinstein. Polygraph letter says "4 boys and a couple of girls" were at party. Letter to Feinstein says "me and four others." No way to reconcile the two—irrespective of whether she's counting herself in polygraph letter. pic.twitter.com/aWJ10vTDna

— Charles C. W. Cooke (@charlescwcooke) September 26, 2018
Kavanaugh vote/hearing was delayed because Ford was "scared" of flying.

"Ford's fear of flying is directly related to her allegation of assault, and that an airplane is the ultimate closed space where you cannot get away."

She flew 3,000 to Maryland for a poly in August.
How? pic.twitter.com/cznzQiixWN

— Benny (@bennyjohnson) September 26, 2018
3:15 PM — "None of Ms. Swetnick's claims could be independently corroborated by The New York Times, and her lawyer, Michael Avenatti, declined to make her available for an interview."
3:12 PM — Of note from the "polygraph report":
New letter from Ford lawyers to Judiciary: "Under no circumstances" will they hand over her medical records, including therapist notes, to committee. Did send them her polygraph test

— Seung Min Kim (@seungminkim) September 26, 2018
3:09 PM — Lindsey Graham echoes "Twilight Zone" response from Kavanaugh.
GOP Sen. Lindsey Graham on the new allegations against Kavanaugh: "This is getting into the twilight zone. You are talking about Brett Kavanaugh being a serial rapist during high school as a sophomore…" pic.twitter.com/H8fuadUsKY

— CNN Politics (@CNNPolitics) September 26, 2018
3:05 PM — Sen. Patty Murray (D-WA) says pushback on the Kavanaugh "smear campaign… frightens me as a woman."
I believe that there are responsible Republicans who are going to share the view that it is not just a Supreme Court nominee that is on trial right now. It is the United States Senate in the year of the #MeToo movement. We have the obligation to show this country we a take the allegations seriously, and investigate them absolutely, but that they will be listened to and heard. We are on trial here as well.
3:04 PM —
I'm seeing a lot of people jumping on the latest allegations against Kavanaugh, saying Julie Swetnick's claims are credible because she made them under the penalty of perjury.@MichaelAvenatti's ex-wife made claims of abuse under oath, yet Avenatti dismissed them as a smear.

— Lukas Mikelionis (@LukasMikelionis) September 26, 2018
3:01 PM — Intense virtue signaling from Jeff Flake. Says Trump "uninformed and uncaring." Does not give an indication who he finds credible: "I will have to listen to the testimony before I make up my mind about the testimony."
3:00 PM — Tom Cotton: Avenatti client's allegations are "not credible."
FBI already investigated latest accusation—six full-field background investigations of Judge Kavanaugh, yet none turned up alleged drug-running, gang-rape operation he supposedly ran as a teenager.

Not credible.

— Tom Cotton (@TomCottonAR) September 26, 2018
2:58 PM — Worth remembering re: the FBI…
While the president could authorize further investigation by the FBI, Mr. Trump said he trusted the committee to carry out the process. "'It seems that the FBI really doesn't do that," Trump told reporters on Wednesday, noting that the bureau already completed six background checks on Kavanaugh. [emphasis added]
2:55 PM — Murkowski so far has been the Republican senator most publicly sympathetic to Democratic objections, saying that the FBI should investigate Kavanaugh's accusers to "clear up" questions.
Sens. Feinstein and Murkoskwi have been huddling and whispering to each by the elevators in the basement of the Capitol for some time now pic.twitter.com/0eKN0bhNBT

— Matt Laslo (@MattLaslo) September 26, 2018
2:51 PM — RNC Chairwoman Ronna McDaniel asks, "Why hire a Michael Avenatti? Why hold this in your back pocket [referring to Dianne Feinstein sitting on Ford's letter]?"
.@GOPChairwoman Ronna McDaniel: "I do think the Democrats have done a disservice to these individuals." pic.twitter.com/FzegVQzfrh

— Fox News (@FoxNews) September 26, 2018
2:49 PM — Reality check from… a Washington Post blogger?
Worth emphasizing that Swetnick doesn't EXPLICITLY claim Kavanaugh and Judge engaged in gang rape.

Says they deliberately got girls inebriated & that she saw them lined up outside rape rooms.

Also says they were "present" for her own gang rape, which may not mean participants. pic.twitter.com/3VjYJwRmRy

— Aaron Blake (@AaronBlake) September 26, 2018
facilitating or witnessing gang rapes and doing nothing to stop them/report them would be disqualifying anyway.

but it's worth being specific about what's alleged.

— Aaron Blake (@AaronBlake) September 26, 2018
2:44 PM — Alyssa Milano proves unconvincing.
In her first statement on the Senate floor, Republican Mississippi Sen. Cindy Hyde-Smith says sexual assault must never be taken lightly — which is why "unproven accusations," like these ones against Kavanaugh, "are so very unjust."

— Daniel Dale (@ddale8) September 26, 2018
2:43 PM —
Plane with a sign that reads "Thank you Deborah we have your back" circling over downtown #Boulder pic.twitter.com/vDJi2kEejV

— Mitchell Byars (@mitchellbyars) September 26, 2018
2:40 PM — Trump, still at the U.N., pays a compliment to Japanese PM Shinzo Abe in his defense of Kavanaugh. "They are bringing people out of the woods. They can do it to anybody. They can do it to anybody except for Prime Minister Abe because he is so pure."
Pres. Trump on the latest allegations against Brett Kavanaugh:
"It's a disgrace what's going on. The good news is the public is very smart and they get it." pic.twitter.com/GZM9FS9Eon

— AnnaMaria Di Pietro (@AnnaMariaDP) September 26, 2018
2:37 PM — Washington Post with the Bezos-Money Analysis:
Kavanaugh's high school and college years were the high water mark of teen drinking in the U.S. This doesn't tell us what any individuals did or didn't do, but the context is important. https://t.co/H9m4PdLnW5 pic.twitter.com/EH2lyMHwbc

— Christopher Ingraham (@_cingraham) September 26, 2018
2:36 PM — New poll says that Kavanaugh's approval among Republican women has dropped.
NEW #KAVANAUGH POLL:
• Net support for Supreme Court nominee dropped 18 points among GOP women.
• @realDonaldTrump approval fell 19 points among GOP women, with 68% approving and 26% disapproving.https://t.co/aPTiYqJszy pic.twitter.com/2qUT0xHvis

— Eli Yokley (@eyokley) September 26, 2018
2:32 PM — Blasey Ford's legal team releases their report on a polygraph test administered this August:
NEW: obtained by @MikeEmanuelFox– #ChristineBlaseyFord counsel sent @senjudiciary Ford's polygraph report & this handwritten note re: #Kavanaugh allegations #KavanaughAccuser #KavanaughConfirmation pic.twitter.com/YEYCm8hPL9

— Brooke Singman (@brookefoxnews) September 26, 2018
2:30 PM — Mark Judge responds to Swetnick/Avenatti claims:
NEW: "Mr. Judge vehemently denies Ms. Swetnick's allegations," attorney for Mark Judge tells @ABC. https://t.co/2PRAkil3rc

— ABC News (@ABC) September 26, 2018
2:29 PM —
GOP senators made a protective bubble around @SenatorCollins as she walked through reporters so she didn't have to answer ?s, Collins is one of just a few toss-up votes on Kavanaugh

— Eliza Collins (@elizacollins1) September 26, 2018
2:25 PM — Trump's dismissive tweet against Avenatti appears to have gotten under the 2020 hopeful's skin. He has now responded twice in the past 40 minutes to insist that his legal record is very impressive.
Trump pretends he is a tough guy. He is nothing of the kind. He grew up spoiled with a silver spoon in his mouth and a gold toilet under his butt. He was handed everything. That is why the majority of America & the UN laughs at him and calls him a con. But at least Putin is a fan

— Michael Avenatti (@MichaelAvenatti) September 26, 2018
Trump doesn't even know anything about my background. Knows nothing about my history of over $ 1 Billion in verdicts and settlements. I have represented Republicans and Democrats. I have represented hard working people throughout this nation.

— Michael Avenatti (@MichaelAvenatti) September 26, 2018
2:22 PM — Merkley's legal filing is now publicly available. Among several dubious claims, it repeats the argument presented by Democrats during Kavanaugh's public hearings that the National Archives have not released enough documents from Kavanaugh's tenure in the Bush (43) White House.
This Merkley suit is bonkers. The claim is that the Constitution prevents the Senate from holding a vote on a judicial nominee until the National Archives releases an indeterminate number of records about that nominee. pic.twitter.com/XgbWaHGPni

— Gabriel Malor (@gabrielmalor) September 26, 2018
2:20 PM — Kavanaugh has already testified under oath in response to Swetnick's allegations, according to Time. The testimony took place in a closed-door session with Senate Judiciary investigators.
2:00 PM — Video from Breitbart News shows actress Alyssa Milano protesting at the office of Sen. Cindy Hyde-Smith (R-MS). Hyde-Smith is not a member of the Judiciary Committee.
1:58 PM — Sen. Jeff Merkley (D-OR) is seeking a federal court injunction to halt Kavanaugh's nomination, Politico reports.
1:55 PM — Kavanaugh and Republican senators unfazed by Swetnick's allegation that Kavanaugh may have participated in "gang rapes" of other women and that he was "present" at a party where she was raped by multiple men.
Kavanaugh attorney Beth Wilkinson tells @wolfblitzer that Kavanaugh is NOT going to withdraw his nomination, & will continue to fight

— Jake Tapper (@jaketapper) September 26, 2018
Sen. Lindsey Graham in a new statement: "If Republicans bail out on this good man because of the smears and character assassination perpetrated by Michael Avenatti, we deserve our fate."

— Kaitlan Collins (@kaitlancollins) September 26, 2018
1:53 PM — A CNN legal analyst says "it's hard to believe" that the FBI "missed something as big, potentially, as this" new accusation in six background checks during Kavanaugh's judicial career.
Breitbart News
http://feedproxy.google.com/~r/breitbart/~3/Vtu1ApypkM0/