Lee Cain: Senior Johnson adviser to leave Downing Street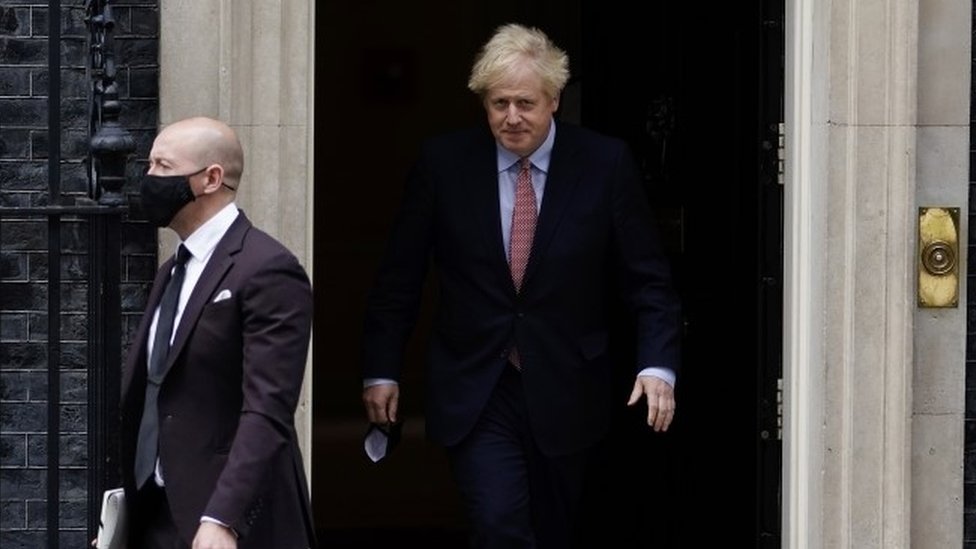 One of Boris Johnson's closest aides, director of communications Lee Cain, has resigned amid reports of internal tensions in Downing Street.
In a statement he said he was leaving next month, despite having been offered the role of No 10 chief of staff.
Mr Cain has worked with the prime minister for several years.
His departure prompted speculation about the future of Dominic Cummings, the PM's chief adviser, but the BBC was told he would not be quitting.
Mr Cummings and Mr Cain are long-time colleagues, having worked together on the Leave campaign during the EU referendum.
BBC political editor Laura Kuenssberg said that, despite the departure of his close ally, Mr Cummings would be staying on for now.
The news that Mr Cain could become the PM's chief of staff had led to consternation among some MPs, some ministers, and other insiders in government, our political editor added.
One Tory source even suggested that Mr Johnson's fiancee, Carrie Symonds, had misgivings about that plan.
Our political editor added that allies of Mr Cain were unhappy about how he had been treated, which prompted initial speculation about Mr Cummings's own future and those of other No 10 aides.
Dominic Cummings is NOT following Lee Cain out Number 10 door – PM's most senior advisor is staying on for now, despite departure of his close colleague, Mr Cain- understood to want to stay to work to combat coronavirus pandemic and in partic accelerate the mass testing programme

— Laura Kuenssberg (@bbclaurak) November 12, 2020
However, government sources said David Frost, the PM's chief Brexit negotiator who is leading the UK's trade talks with the EU, would be remaining in his post.
Mr Cain, who is set to step down next month, is expected to be replaced by the PM's chief spokesman James Slack.
The prime minister is looking to fill the post of chief of staff as part of a wider reorganisation, which will see ex-BBC journalist Allegra Stratton take on a role fronting new daily televised press briefings.
'Much missed'
In his resignation statement, Mr Cain said it had been a privilege to work for Mr Johnson for the last three years and said "it was an honour to be asked to serve as the prime minister's chief of staff".
But he added: "After careful consideration I have this evening resigned as No 10 director of communications and will leave the post at the end of the year.
"I would like to thank the prime minister for his loyalty and leadership.
"I have no doubt that under his premiership the country will deliver on the promises made in the 2019 election campaign and build back better from the coronavirus pandemic."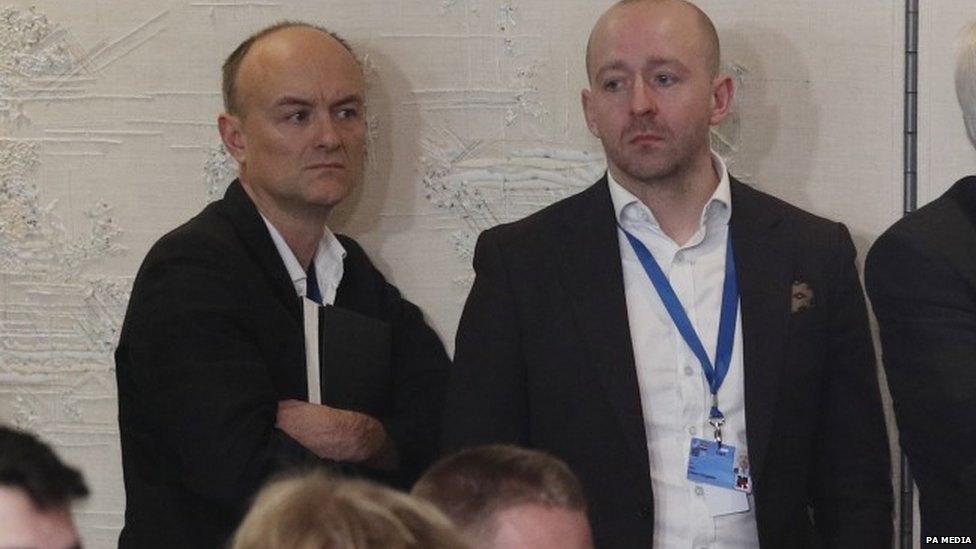 In response, Mr Johnson thanked Mr Cain for his "extraordinary service" to him, both in No 10 and previously when he was foreign secretary.
"He has been a true ally and friend and I am very glad that he will remain director of communications until the new year and to help restructure the operation. He will be much missed," the PM said.
'Fed up'
Several Conservative MPs have expressed dismay at the wrangling in No 10, which comes at a time of growing unease on the Tory benches at the government's handling of the Covid pandemic and the economic damage being caused by the current lockdown in England.
Following a meeting of the influential 1922 committee earlier, vice chairman Charles Walker told the BBC there was "far too much intrigue at Number 10 and the parliamentary party is fed up to the back teeth with it".
He added: "The only person we're interested in who comes out of that front door is the prime minister and we are increasingly struggling to see what value he is being offered by these various personalities."
Labour said the developments were a sign of an "incompetent and divided" government.
"On the day the UK became the first country in Europe to report 50,000 coronavirus deaths and the public endure another lockdown, Boris Johnson's government is fighting like rats in a sack over who gets what job," a party spokesman said.
"It is precisely this lack of focus and rank incompetence that has held Britain back."
And the party's deputy leader, Angela Rayner, tweeted that the episode was "pathetic and childish".
Pathetic and childish. In the middle of a pandemic, when a few hours ago we reached the tragic milestone of 50,000 deaths. This absolute shower wouldn't know governing in the national interest if it slapped them in the face. https://t.co/cMqMcndlX3

— 🌈 Angela Rayner 🌈 (@AngelaRayner) November 11, 2020