Covid: UK at 'critical moment' with coronavirus – PM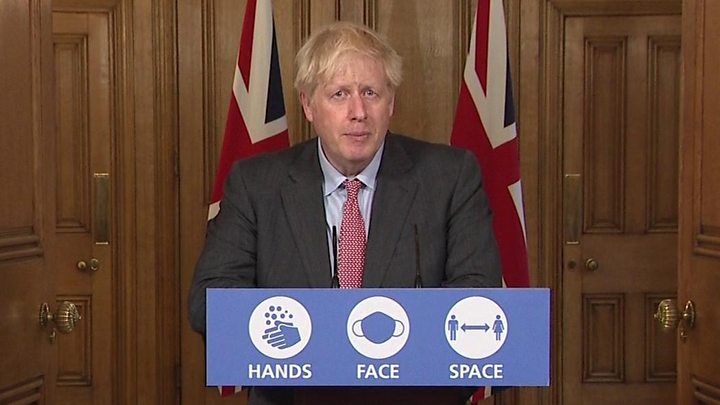 New measures to tackle the increase in coronavirus cases "will take time to feed through", Boris Johnson says.
The prime minister told a No 10 briefing the UK was at a "critical moment" and the rising number of cases and deaths shows "why our plan is so essential".
He said he would "not hesitate" to impose further restrictions if needed.
Chief scientific adviser Sir Patrick Vallance said: "We don't have this under control at the moment."
"There's no cause for complacency here at all," he added.
It comes as the latest UK coronavirus figures showed there have been a further 7,108 cases and another 71 deaths.
Mr Johnson also said the nation could face the winter "with confidence" because it is now better prepared than it was in March.
The preparations include being on track for 500,000 tests a day by the end of October, 2,000 beds in seven Nightingale hospitals and a four-month supply of protective equipment (PPE) such as masks, gowns and visors.
He said they had trebled the number of ventilators in the NHS to 31,500 in the last six months.
"I want to thank everyone for the fantastic national effort that we are seeing," Mr Johnson said.
"No matter how impatient we may be, how fed up we may become, there is only one way of doing this, and that's by showing a collective forbearance, common sense and willingness to make sacrifices for the safety of others."
'Will the second wave be less severe?'
It is now clear the second wave is here. Infections, hospital cases and deaths are all rising.
But what happens next is the big unknown.
The doomsday scenario of a doubling of cases every week that was put forward last week is not materialising.
The increase in hospital admissions is even more gradual – and the total numbers being admitted are more than 10 times lower than they were at the peak.
It points to a slower, less severe wave this time round.
But it is still early days.
We are just at the start of the autumn and winter period when respiratory viruses circulate more.
The situation could easily unravel.
However, the UK, like other countries, is in a much stronger position than we were when we walked blind into the first wave.
Better treatments are in place, social distancing has become routine and – despite the problems – there is much more testing available.
The odds are certainly stacked in our favour more than they were six months ago.
Mr Johnson paid particular tribute to university students, hundreds of whom have been forced to self-isolate, and are "experiencing a first term back at university unlike anything they could have imagined".
He urged people to use the NHS Test and Trace app, saying it had reached 14 million downloads, and said he would resume providing regular Downing Street briefings.
The prime minister said it was a "critical moment" in the pandemic and warned he was prepared to take "more costly" action against the virus if necessary.
"If we put in the work together now, then we give ourselves the best possible chance of avoiding that outcome and avoiding further measures."
England's chief medical officer Prof Chris Whitty told the briefing the number of Covid-19 patients was rising, especially in hotspots, although they remained lower than in early April.
"We are pointing out that the direction of travel for both hospitals and intensive care is going in the wrong direction, particularly in these areas that have seen rapid increases in cases," he said.
"We have got a long winter ahead of us."
Prof Whitty said the pattern of cases was "rather different" in the second wave, with a "heavy concentration" of infections in areas such as the the Midlands, as well north-east and north-west England, alongside the general rise in Covid-19.
He said cases were increasing "quite rapidly" among older teenagers and under-21s, but the rate of transmission among school-age children was not changing very much.
The government has faced criticism in recent days over the lack of Parliamentary scrutiny of its coronavirus measures and the complexity of the changing rules.
Labour leader Sir Keir Starmer said there had to be "a national effort to prevent a second lockdown".
But he said the government was not fulfilling its role of providing a "very clear strategy", instead offering "confusion".
Sir Keir said there needed to be an "urgent review" of local restrictions, as they had now been imposed in 48 areas and only lifted in one.