Covid: 'Most dangerous time' of the pandemic, says Prof Whitty
The UK will go through the "most dangerous time" of the pandemic in the weeks before vaccine rollout has an impact, England's chief medical officer has warned.
Prof Chris Whitty urged people to minimise all unnecessary contact with others.
The next few weeks will be "the worst" of the pandemic for the NHS, he said.
Thousands more people are due to receive a vaccine this week after seven mass centres opened across England.
NHS England said hundreds more GP-led and hospital services would also open later this week.
But with all centres, people will need to wait until they receive an invitation.
The government is aiming to offer vaccinations to around 15 million people in the UK – the over-70s, older care home residents and staff, frontline healthcare workers and the clinically extremely vulnerable – by mid-February.
Health Secretary Matt Hancock will set out the government's vaccine delivery plan at a news conference later.
He said the proposals would be the "keystone of our exit out of the pandemic".
Mr Hancock said on Sunday about two million people in the UK had been vaccinated so far.
Currently, around one in 50 people across the UK is infected and Prof Whitty told BBC Radio 4's Today programme: "There's a very high chance that if you meet someone unnecessarily they will have Covid."
In a separate interview with BBC One's Breakfast, he said: "This is everybody's problem. Any single unnecessary contact you have with someone is a potential link in a chain of transmission that will lead to a vulnerable person."
He said there were over 30,000 people [in English hospitals alone] with Covid-19 – compared to about 18,000 [in England] at the peak last April.
He added that "anybody who is not shocked" by the number of people in hospital "has not understood this at all".
"This is an appalling situation," he said.
In Surrey, a temporary mortuary has been opened as hospital mortuaries have reached capacity.
Almost 200 bodies are being stored at the emergency site, which is a former military hospital, and other local authorities have told the BBC they expect to open similar facilities soon.
Prof Stephen Powis, NHS England national medical director, said "this is much bigger than the first wave back in April".
"I don't think anyone in the NHS has known anything like this, this is a once-in-a-century pandemic," he said.
Prof Rupert Pearse, an intensive care doctor, told BBC Breakfast that in a "normal" winter it would be "unlikely" that more than three of four flu patients would need intensive care at any one time, but his unit is now running 130 intensive care beds because of the effects of Covid.
"To compare this to a normal winter flu epidemic is out of all proportion, it's orders of magnitude larger," he said.
Under the national lockdown, people in England must stay at home and can go out only for limited reasons such as food shopping, exercise, or work if they cannot do so from home.
Ministers held two meetings on Sunday to discuss how to enforce the current lockdown measures more strictly and whether even tighter restrictions may be needed.
BBC political correspondent Iain Watson said no decisions on further restrictions were taken as there was a desire within government to wait until reliable data on existing measures becomes available in 10 days.
However, he added there had been a discussion on better enforcement of existing regulations, including at shops and workplaces.
Labour leader Sir Keir Starmer questioned why there are "less restrictions in place" now than there were last March.
In his first speech of the year, he said "we need to see the evidence behind nurseries" remaining open.
Asked whether tighter restrictions were needed, he said: "I do think it's time to hear from the scientists [about] what else could be done and that probably should be done in the next few hours".



There is a lot of debate about whether the lockdown restrictions need to be tightened.
There are certainly some anomalies. For example, we are told to only leave the home for essential purposes, but coffee shops remain open for takeaways and retail shops for click-and-collect in England and Wales.
However, even if those elements are tightened up, there is a limit to what the government can do. It is why, in his round of media interviews on Monday, Prof Whitty repeatedly talked about individual decision-making.
The mixing of different households continues. Some of it is allowed under the support bubble exemptions, but undoubtedly some of it is taking place outside of this. It is, after all, virtually impossible to police what goes on in people's homes.
It is why messaging is so important – and so ministers and officials are stressing the pressure the NHS is under. A further tightening of the restrictions could also help make the point.
But there is also a recognition this is hard. People are fatigued. A further crackdown could also erode goodwill.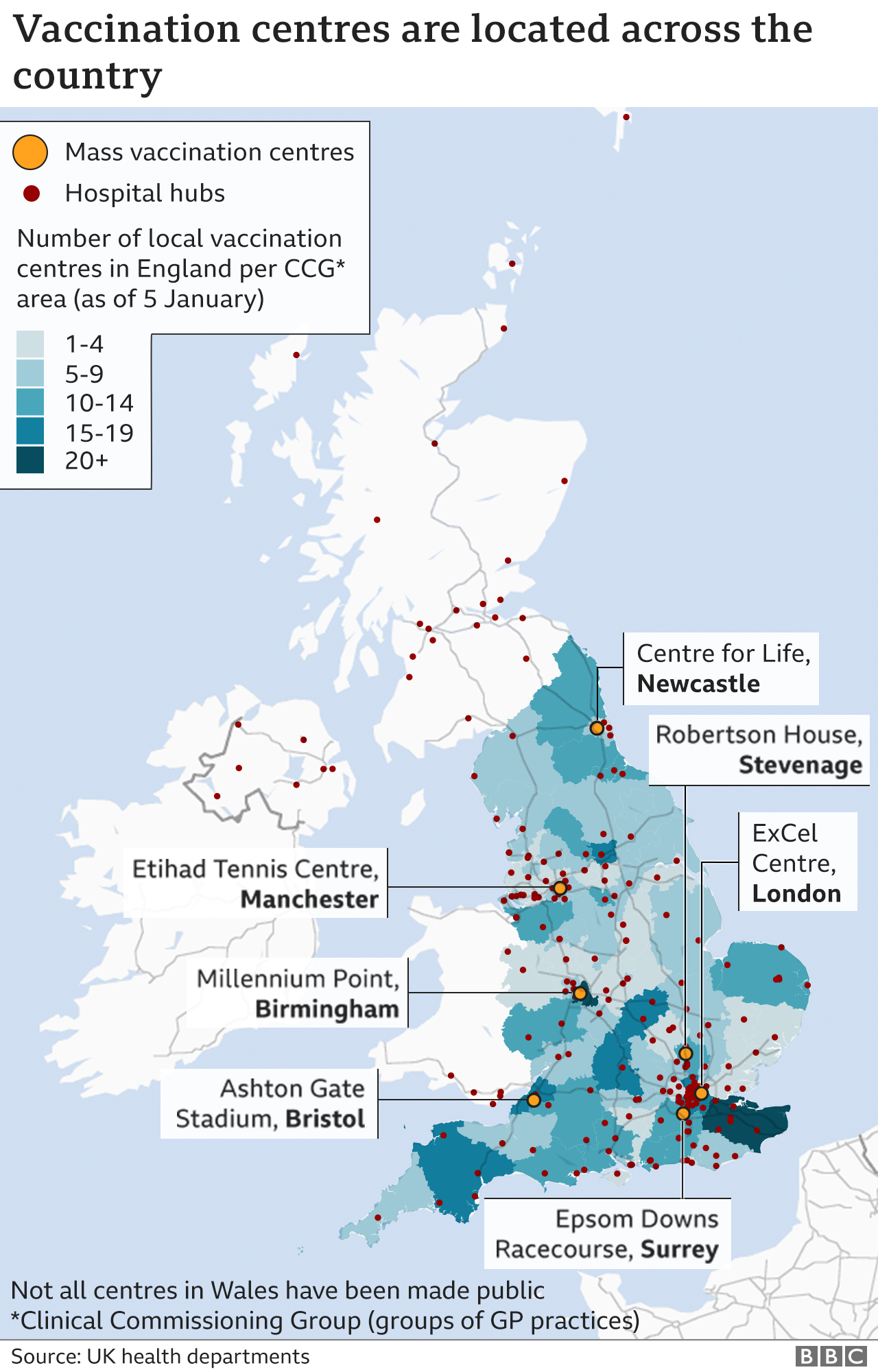 The vaccination programme is described as the biggest in NHS history.
The seven mass testing sites, which NHS England said were chosen to give a geographical spread, are:
Millennium Point, Birmingham
Ashton Gate, Bristol
ExCel Centre, London
Manchester Tennis and Football Centre
Centre for Life, Newcastle
Robertson House, Stevenage
Epsom Downs Racecourse, Surrey
The new centres will each be capable of delivering thousands of vaccinations each week and will be followed by "dozens more" large-scale sites, NHS England said.
There will be about 1,200 vaccination sites when more GP-led and hospital services open later this week, along with the first pharmacy-led pilot sites, it added.




Vaccines minister Nadhim Zahawi said nobody should be asked to travel more than 10 miles to get a vaccine once more centres open.
Asked on Today why the centres were not open 24 hours a day, he said it was "more convenient" for older people to attend during the day.
"If we need to go to 24-hour work we will absolutely go to 24 hours a day to make sure we vaccinate as quickly as we can," he said.
But he cautioned: "We are limited by the amount of vaccine that is coming through the system."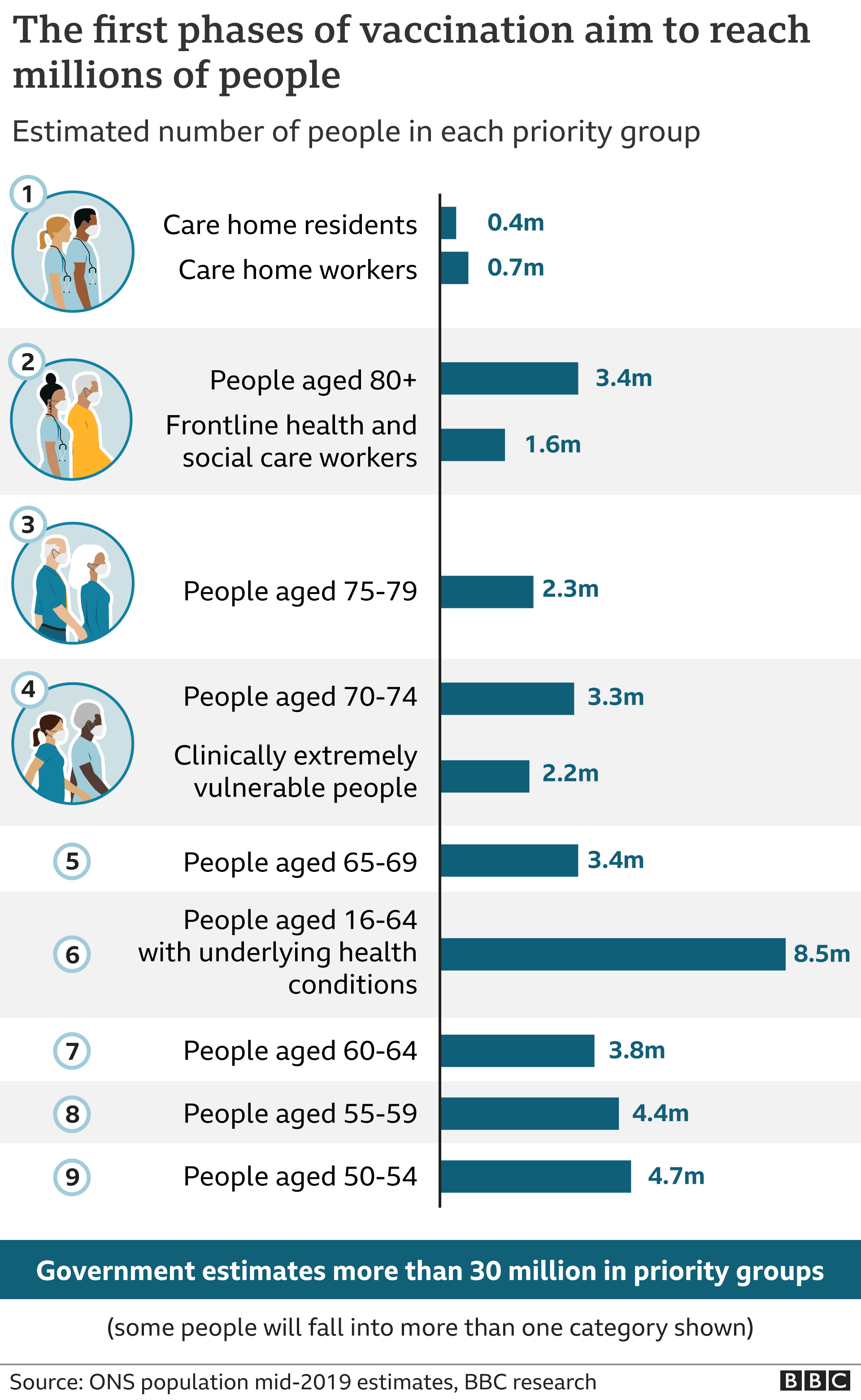 Pharmaceutical firm Boots said its first vaccination site was due to open later this week to offer the Oxford-AstraZeneca jab to the people most vulnerable.
It said sites in Huddersfield and Gloucester were planned to open in the coming weeks.
Two vaccines – Pfizer-BioNTech and Oxford-AstraZeneca – are currently being administered in the UK.
On Friday a third coronavirus vaccine – made by US company Moderna – was approved for use, although supplies are not expected to arrive until spring.



Are you due to have a vaccination today? What has been your experience of receiving a vaccination? Email: haveyoursay@bbc.co.uk.
Please include a contact number if you are willing to speak to a BBC journalist. You can also get in touch in the following ways:
If you are reading this page and can't see the form you will need to visit the mobile version of the BBC website to submit your question or comment or you can email us at HaveYourSay@bbc.co.uk. Please include your name, age and location with any submission.