Covid: Millions more face tier 3 as new strain identified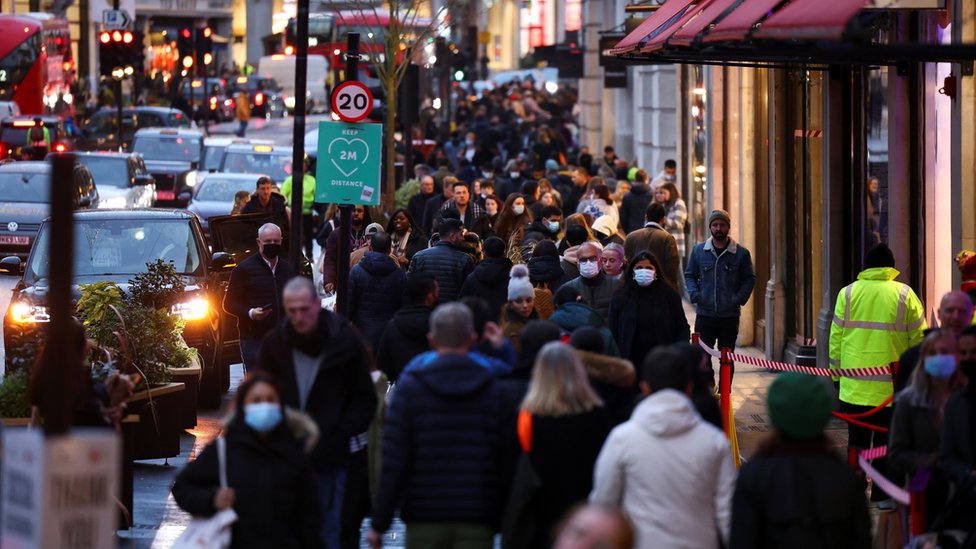 Millions more people in England are set to move into the toughest Covid restrictions after ministers warned that a new Covid strain of the virus may be linked to a rise in infections.
London, most of Essex and parts of Hertfordshire will join tier three at 00:01 GMT on Wednesday.
Health Secretary Matt Hancock said action was needed immediately to slow an "exponential" spike in cases.
No 10 rejected suggestions it might now review Christmas guidelines.
The announcement will move about 10.8 million people into tier three, with 61% of England's population – or 34 million people – under the toughest restrictions from Wednesday.
Under tier three – very high alert – rules pubs and restaurants must close, except for takeaway and delivery, and indoor entertainment venues such as theatres, bowling alleys and cinemas must remain shut.
The Department for Education said if the Labour-led council did not withdraw its advice by later this morning, the government would seek an injunction at the High Court to enforce its powers to keep schools open.
Speaking at a Downing Street briefing on Monday evening, Mr Hancock said the virus was doubling in some areas of England roughly every seven days.
It would only take a few doublings of cases for hospitals in the capital, Essex and Kent to be "overwhelmed", he warned.


The latest tier three areas include:
Greater London
The south and west of Essex (Basildon, Brentwood, Harlow, Epping Forest, Castle Point, Rochford, Maldon, Braintree and Chelmsford, along with Thurrock and Southend-On-Sea borough councils)
The south of Hertfordshire (Broxbourne, Hertsmere, Watford and the Three Rivers local authority)


The new restrictions were met with anger from a number of sectors from the economy, with the hospitality industry warning the move would put thousands of jobs at risk.
Mr Hancock acknowledged the measures would be a "blow" to people and businesses, but said "further action" could not be ruled out.
He said an initial analysis suggested it was "growing faster than the existing variant", affecting at least 60 different local authorities.
He added the rise in transmission, as well as the new variant, was a "warning to us all that even after such a difficult year, we must stay vigilant".
Speaking on BBC Two's Newsnight, former Tory minister Stephen Hammond, who represents Wimbledon, suggested there would now be a "rethinking" over whether it was appropriate for families to gather at Christmas.


New Covid strain: How worried should we be?

A mutated virus sounds instinctively scary, but to mutate and change is what viruses do.
Most of the time it is either a meaningless tweak or the virus alters itself in such a way that it gets worse at infecting us and the new variant just dies out.
Occasionally it hits on a new winning formula.
There is no clear-cut evidence the new variant is able to transmit more easily, cause more serious symptoms or render the vaccine useless.
However, there are two reasons scientists are keeping a close eye on the one that has been detected in the south-east of England.


Scientists have warned the easing of coronavirus restrictions over Christmas by all four UK nations will cause a spike in infections.
David Nabarro, a World Health Organization special envoy working on Covid-19, said the price of such a relaxation "could well be very high" and urged people to think carefully about their plans.
Prof Stephen Reicher, of the University of St Andrews, said: "Right now we are heading towards disaster.
"Given high levels of infection across the country and the increasing levels in some areas, it is inevitable that if we all do choose to meet up over Christmas then we will pay the price in the new year."
But asked at the Downing Street briefing whether the government should rethink its Christmas plans, Mr Hancock urged people to be "extremely careful" about who they mix with in the run-up to Christmas if they are planning to see elderly relatives over the festive period.
England's chief medical officer, Prof Chris Whitty, said people should not meet at Christmas just because they can.






What are tier three (very high) rules?
You cannot mix indoors, in private gardens or in most outdoor venues, except with your household or bubble
You can meet in a group of up to six in other outdoor spaces, such as parks, beaches or countryside
Shops, gyms and personal care services (such as hairdressing) can stay open
Bars, pubs, cafes and restaurants must stay closed, except for delivery and takeaway
Sports fans cannot attend events in stadiums
Indoor entertainment venues – such as theatres, bowling alleys and cinemas – must stay closed
People are advised not to travel to and from tier three areas