Coronavirus: Tory MPs call for more evidence on 'appalling' Covid tiers plan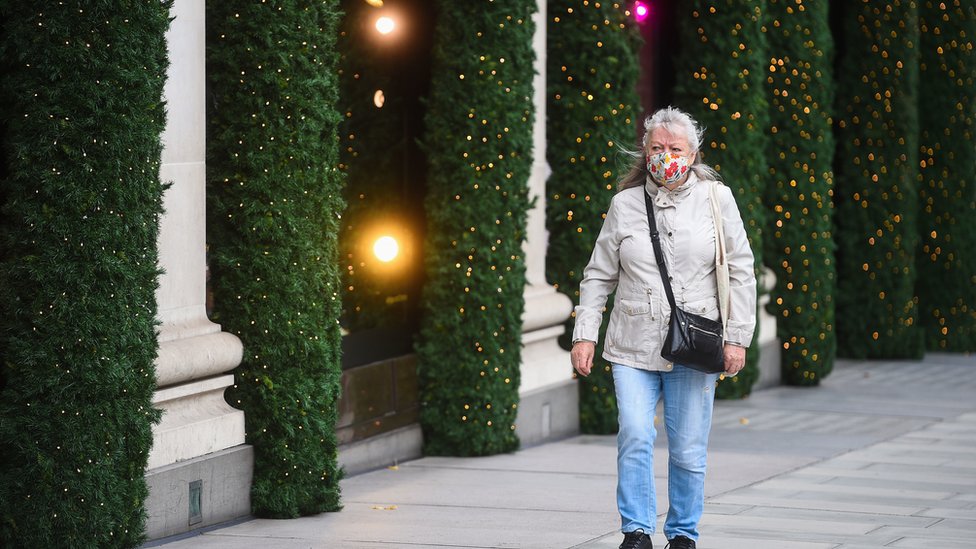 Conservative MPs have called on the government to publish more evidence to justify areas of England being put into the higher tiers of Covid restrictions when the lockdown ends next week.
Several Tory MPs have criticised the introduction of the stricter measures.
No 10 said on Thursday that most of England would go into the two highest tiers when lockdown ends on 2 December.
The Covid Recovery Group, made up of Tory backbenchers, said it was "authoritarianism at work".
Health Secretary Matt Hancock said the move was "necessary to protect the NHS and keep the virus under control".
The government has promised to publish an impact assessment early next week before MPs get a chance to vote on the new rules on Tuesday.
But a revolt is brewing among the government's own MPs, including the chairman of the influential 1922 committee of backbenchers, Sir Graham Brady.
The MP for Altrincham and Sale West, which is in tier three with the toughest restrictions, told the BBC the restrictions "interfered in people's private and personal lives in a way which is unacceptable".
Boris Johnson has an 80-strong majority in the Commons, but if 40 of his own MPs vote down the move, he will have to rely on support from Labour to get it through.
Labour is expected to decide early next week whether to back the plans after consultation with government coronavirus experts.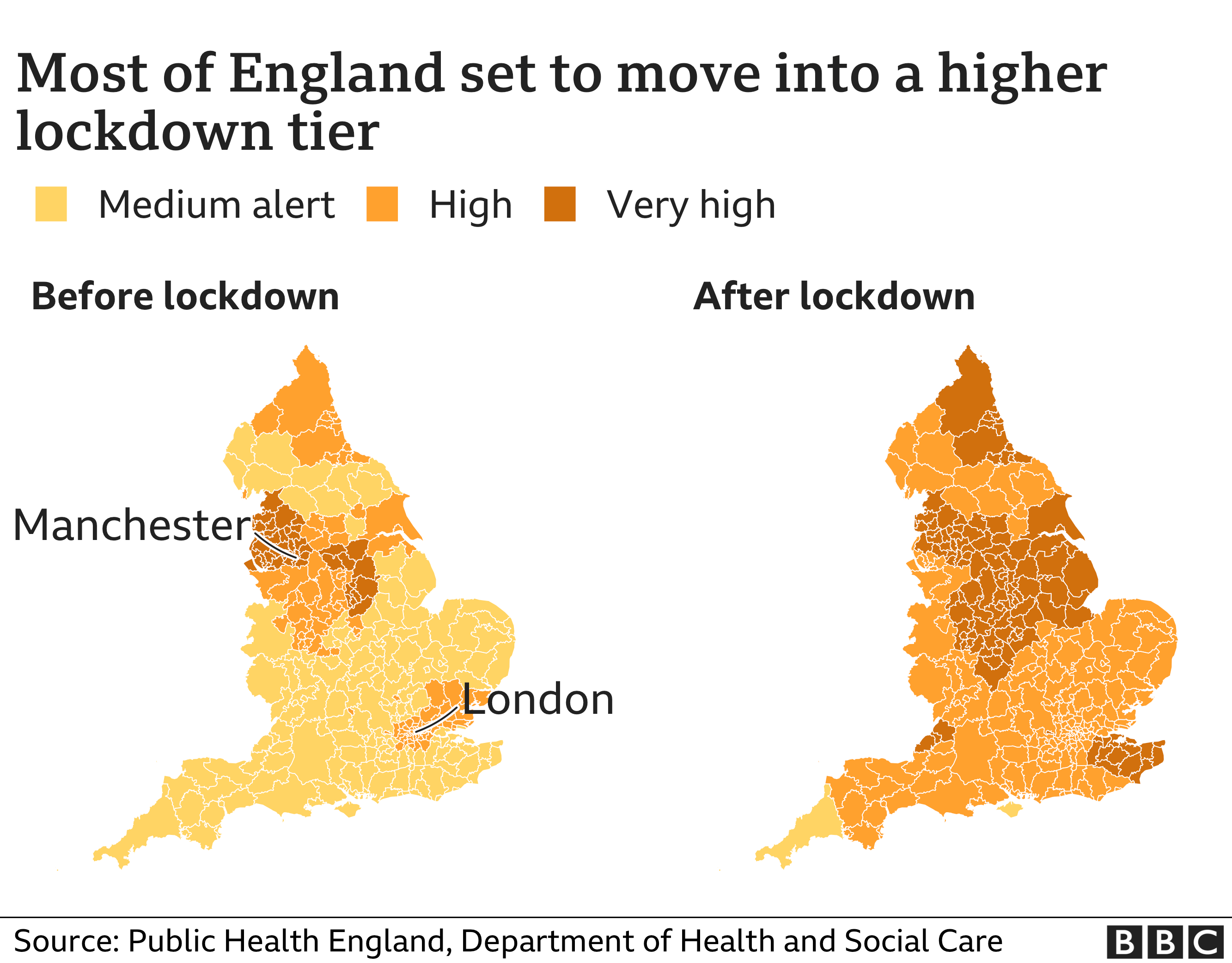 The latest plan will see over 57% of England's population – more than 32 million people – living under tier two restrictions from Wednesday.
A further 41% – more than 23 million people across 21 local authority areas- will be placed in tier three, while just over 1% will enter tier one.
BBC analysis suggests the toughest tier has more Labour constituencies – 96 – than Conservative ones, while the majority of Tory seats – 205 – will be in tier two.
Large parts of the Midlands, North East and North West, including Manchester, as well as Kent, will go into tier three.
Meanwhile, there was anger among politicians in Lancashire that the whole county had been placed into the highest tier of restrictions, after council leaders asked for it to be split into different tiers to reflect varying rates.
The prime minister told a Downing Street press conference there was "reason to hope" that the "era of restrictions" could end in the spring, but the tiers were needed to "navigate a hard winter when the burden on our NHS is heaviest."
England's chief medical officer, Prof Chris Whitty, told the same briefing the government was trying to ensure the measures to control the virus were the "least damaging" possible – only enforcing the harshest restrictions "where rates are high or rising".
The deputy chairman of the newly-formed Covid Recovery Group (CRG), Tory MP Steve Baker, called the announcement "truly appalling" and questioned if it was "necessary and proportionate" to the threat from coronavirus.
He criticised the modelling used by government scientists, saying their conclusions were "wrong time and time again", and called for an end to "narrow monopoly expert advice".
He added that he was "open to supporting measures" but only if it could be "clearly demonstrated that the government intervention will save more lives than it costs".
Other Tory MPs have also spoken of their dismay at the impact on their local constituencies, with some saying they would vote against the plans.
A group representing constituencies in Kent – including several former ministers – said much more evidence was needed to justify the whole county entering the top tier and called for the decision to be reviewed.
Others representing parts of Somerset said they expected their area to move down after a review in mid December.
Damian Green, a former cabinet minister and the MP for Ashford in Kent, said he was "hugely disappointed" that his county was going into tier three.
He tweeted: "Before lockdown we were in tier one so what has lockdown achieved? We need the full analysis made public."


And Richard Drax, the MP for South Dorset, said he was "astounded" his area had been put into tier two – having been in tier one before the lockdown.
He said: "Only yesterday the chancellor made clear the utter devastation these lockdowns are having on our economy and all aspects of it, including health. The solution? Carry on destroying lives and livelihoods.
"We need a new strategy based on common sense, not fear and more fear."
A number of Labour MPs have also raised concerns about the plans.
North Durham MP Kevan Jones said it was "shambolic" that his constituency was being moved in tier three with no new money to support businesses.
And Canterbury MP Rosie Duffield said tier three measures in Kent were "potentially dire for our area".