Coronavirus: 917 new coronavirus deaths as UK told to stay home
The UK has recorded 917 new coronavirus deaths, taking the total number of people who have died in hospital with the virus to 9,875.
For the second day in a row, the UK's daily death toll exceeded 900. On Friday there were a record 980 deaths.
People are being urged to enjoy a "stay-at-home Easter" amid lockdown, despite warm weather in much of the UK.
Meanwhile the home secretary said she was "sorry if people feel there have been failings" in NHS protective kit.
"We are in a unprecedented global pandemic. There are going to be problems," Priti Patel added.
Her comments, at the daily coronavirus briefing in Downing Street, came after some NHS workers said they still did not have the personal protective equipment (PPE) needed to treat coronavirus patients.
The UK-wide deaths total is accurate as of 17:00 BST on Friday but does not include those who died in care homes or the community.
In Scotland 47 more deaths were reported on Saturday, while 36 were reported in Wales and 15 in Northern Ireland.
Analysis
By Robert Cuffe, BBC head of statistics
The growth in the total number of new deaths has stalled in the last four days.
In other some other countries that implemented lockdown, the numbers of reported deaths stopped growing about three weeks into lockdown.
But it is too soon to know for sure whether we have reached that point.
There have been reporting lags at weekends and it is possible that a Bank Holiday weekend will include deaths that go unreported until next week.
The government is urging people to stay at home over Easter to curb the spread of the virus, despite warm and sunny weather across parts of the UK.
At the Downing Street briefing, NHS England medical director Stephen Powis said: "It is a bank holiday weekend, it is a time of year when typically we would be celebrating or getting together with relatives and close friends.
"But I'm afraid this year it has to be, for all of us, a stay-at-home Easter."
Police have issued more than 1,000 fines to people not following social distancing measures, according to early figures released at the government briefing.
Martin Hewitt, chair of the National Police Chiefs Council, said most spoken to by officers had understood the rules but a "small minority" had refused to comply.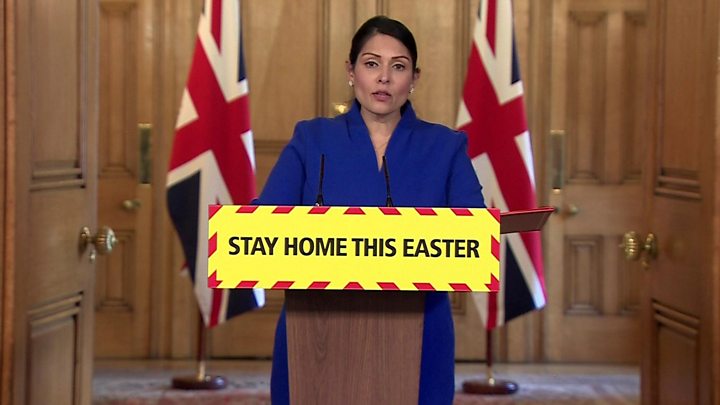 Also at the briefing, Home Secretary Priti Patel said people suffering from domestic abuse during the lockdown would still be able to get support from the police.
For those people, Ms Patel said, "Home is not the safe haven that it should be."
She said she had worked with law enforcement, charities, schools, businesses and councils to address the issue.
"Anyone in immediate danger should call 999 and press 55 on a mobile if you are unable to talk," she said.
"Our outstanding police will still be there for you."
Meanwhile, the Queen has told the nation "coronavirus will not overcome us" and said "we need Easter as much as ever" in her traditional message marking the celebration.
'Protective kit warning'
Earlier, Health Secretary Matt Hancock defended his warning that some NHS workers were using more PPE than needed.
Labour leader Sir Keir Starmer had said it was "insulting to imply frontline staff are wasting PPE".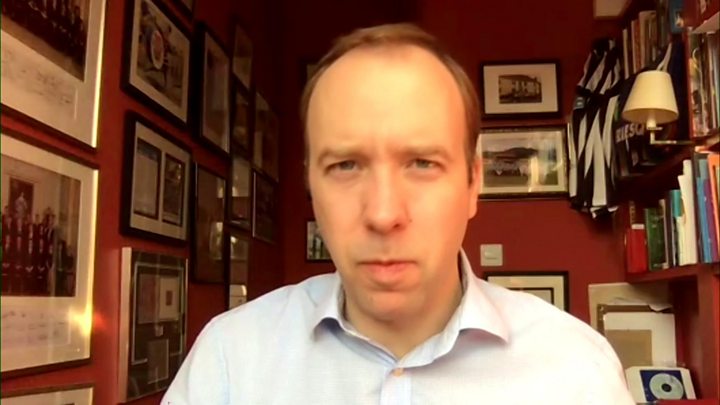 Mr Hancock told the BBC he was not "impugning anyone who works for the NHS", saying, "They do an amazing job."
"But what I am reiterating, stressing, is the importance to use the right amount of PPE," he added.
The British Medical Association (BMA) said health workers treating coronavirus patients still did not have access to enough protective equipment.
Meanwhile Prime Minister Boris Johnson is continuing to make "very good progress" as he is treated for coronavirus in hospital, Downing Street said.
Mr Johnson, 55, had three nights in intensive care before returning to a ward on Thursday.
No 10 said he was receiving daily updates and pregnancy scans from his fiancee, Carrie Symonds, and had been passing the time with films and sudoku.
For several weeks the government and NHS leaders have insisted there are enough stocks of personal protective equipment (PPE) and that the problem lay in the distribution from warehouses to the front line.
Some hospitals have reported receiving higher consignments of gloves, masks, gowns and aprons. But doctors and nurses have continued to report shortages.
Care homes, pharmacies, GP practices and community health teams feel they are at the back of the queue for equipment to protect staff who may come into contact with patients who have Covid-19.
There has also been confusion over how safety guidelines should apply.
Matt Hancock has admitted there are global supply problems and says it is a "Herculean effort" to get deliveries to health workers and a "huge task" to keep it going. He set out a series of measures to step up provision of equipment.
He may be given credit for acknowledging the scale of the problem. But NHS and care staff won't take much notice of plans until they are reflected in reality on the ground. Some are also irritated at the suggestion that PPE is a "precious resource" and should only be used when it is needed.
In other developments: