A-level results: Ofqual 'reviewing' exam appeals guidance
The exams regulator is reviewing its guidance on how to appeal against A-level and GCSE grades using mock exam results – hours after publishing it.
On Saturday Ofqual set out what constituted a "valid" mock exam for students appealing against A-level results in England.
But the regulator has now suspended that criteria, and further information will be published "in due course".
Almost 40% of A-level grades were marked down from teachers' predictions.
Neither A-level nor GCSE students were able to sit public exams this year because of the coronavirus pandemic.
The Conservative chairman of the education select committee, Robert Halfon, said the decision to review appeals guidance only announced on Saturday created a "huge mess" that left students and schools in confusion.
Ofqual said earlier on Saturday that, where a written mock exam was not taken, it would consider other teacher assessments instead.
However, a statement published late on Saturday night on the regulator's website read: "Earlier today we published information about mock exam results in appeals.
"This policy is being reviewed by the Ofqual Board and further information will be published in due course."
BBC political correspondent Jonathan Blake said the Department for Education appeared to be unaware of the change and the review of the criteria was likely to draw further criticism of the government's handling of the exams process in England.
The criteria under which Ofqual would accept a "valid mock assessment", set out on Saturday and then suspended hours later, had been stipulated as:
Supervised, unseen and undertaken in conditions intended to secure the work as the student's own
Either past assessments produced by the relevant exam board, or assessments developed by teachers
Taken under timed conditions
Completed before 20 March 2020, when schools and colleges were closed
Marked using a mark scheme provided by the relevant exam board
Graded in line with the exam board's examination standard
Before results were released, the Department for Education announced a "triple-lock", which meant that students' final results could take into account their teacher's predicted grade, their mock exam or the option of sitting the actual exam in the autumn.
However, Labour said that, under the new Ofqual criteria, some students would not be able to use their mock results as the basis for an appeal if the assessment did not meet the criteria.
Shadow education secretary Kate Green said: "Gavin Williamson promised to give students a triple lock, but instead he left many devastated by unfair exam results, and now his commitment to give them another chance is rapidly unravelling.
"Having promised that students will be able to use a valid mock result, the reality is that many will not receive these grades even if they represent a student's best result.
"The latest chaos is the inevitable consequence of this government's shambolic approach to exams, which saw solutions dreamt up on the back of a cigarette packet and announced barely a day before young people received their results."
Mr Halfon, the education select committee chairman, said: "Goodness knows what's going on at Ofqual. It sows confusion among pupils, head teachers and school teachers and it's the last thing we need at this time."
He told BBC Breakfast he believed that every student who felt their results were unfair should have the right to appeal against the "Kafkaesque exam grades that no one understands" if their head teacher agreed.
Mr Halfon also suggested that if a "quick, fair and understandable" appeals system cannot be devised and there are similar problems with GCSE results this Thursday, "perhaps the only alternative will be to go back to the existing grade predictions of the teachers".
'Not good enough'
Geoff Barton, general secretary of the Association of School and College Leaders, said one head teacher had told him he had been "deluged" with emails about the guidance over appeals on Saturday night and then woke up to messages saying: "I give up, does nobody really care about this?"
"It's simply not good enough," he told BBC Breakfast. He said universities needed to stop being "insular and self-protective" and to "step up", offering places to disadvantaged students who had been downgraded.
He also called for Ofqual to re-examine extreme cases, such as students downgraded from a teacher-assessed C to a failing U grade.
"Young people, after two years on a course, should really not be coming out with a fail when they haven't had the chance to sit the exam," Mr Barton said.
He said the "really big issue" is what has gone wrong with the statistical model used to determine results and how it might affect GCSEs, where there are larger numbers of disadvantaged students waiting for grades.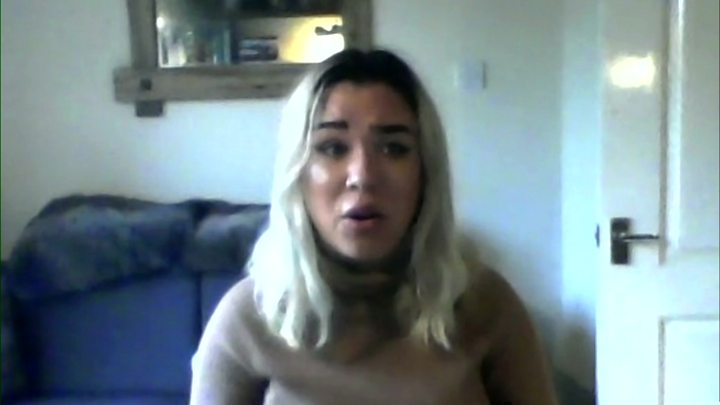 The government is facing mounting criticism over its handling of A-level results, with thousands of students left devastated.
One student, rejected by her chosen university after she was downgraded, told schools minister Nick Gibb: "You've ruined my life."
The government announced on Friday that schools would not have to pay to appeal against exam grades.
But the policy was criticised by the Liberal Democrats, with Layla Moran, the party's education spokeswoman, saying it was "cold comfort" for pupils, adding the move "should never have been needed".
It follows fears that the costs, which can reach up to £150, could stop schools from taking on harder-to-prove cases.